How to Photograph a Home for Award Submissions
Architectural Award Photography – Our Approach
Maui-based architect Marc Taron of Arquitectura reached out to Hawaii Architecture Photographer, Dave Tonnes of PanaViz to photograph this custom home with the intent of submitting it for awards consideration. And it was a winner!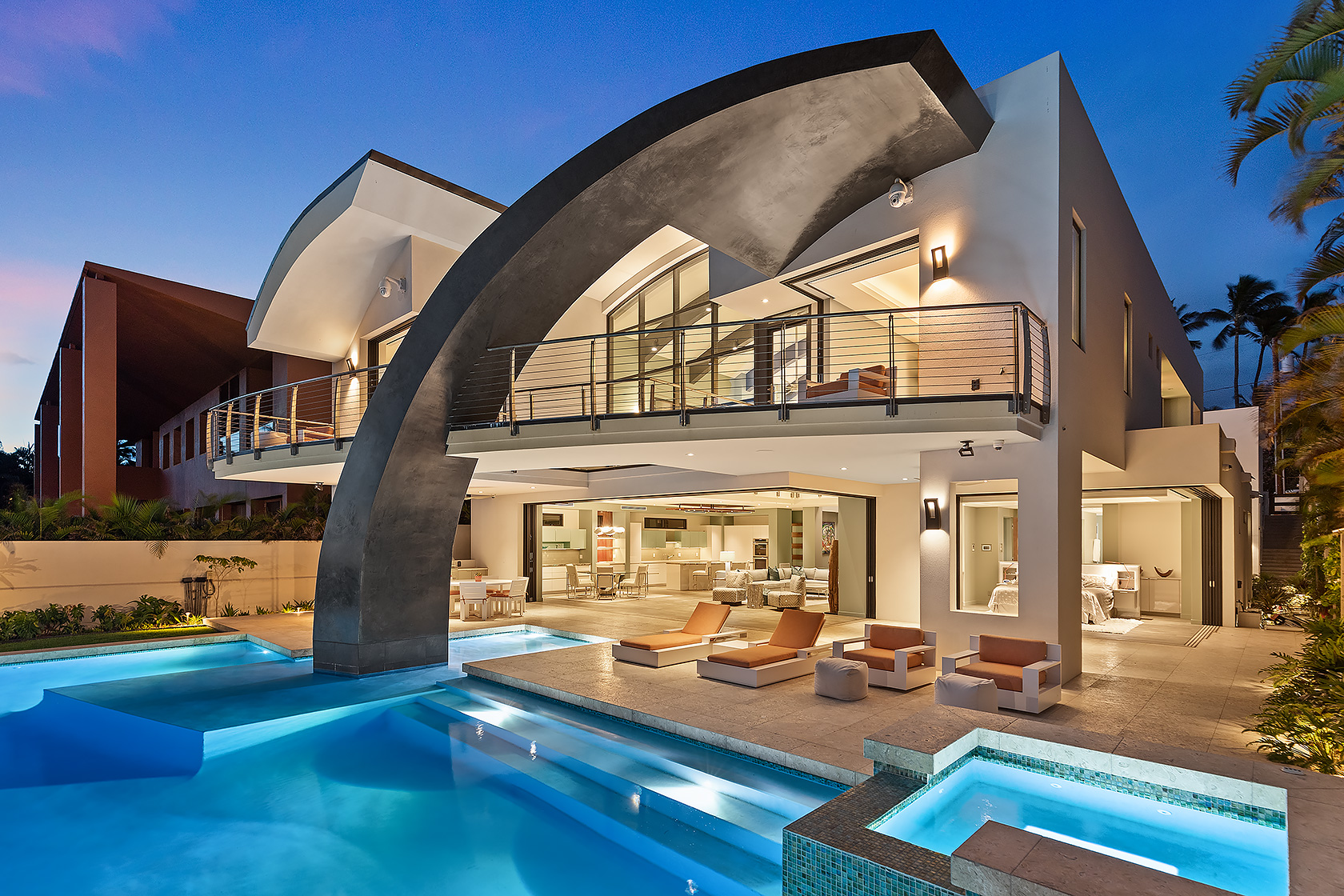 How to Photograph a Home for Awards Submissions
Listen to your client. We find out elements are important to the architect, design team, and owners.
Photography Tools. Use appropriate architectural photography tools to capture these elements. For this home, we used a drone, elevated pole photography, and standard interior/exterior photography equipment.
Trust the Photographers Eye. We try to capture all the elements that are important to our clients. But at the end of the day, Dave trusts his instinct and captures scenes and images that make sense to him. These images usually end up being the "hero" shots that end up getting published.
Take Your Time. We do not hurry these shoots. Images are captured over a period of time. Sometimes it takes a few days if weather is a factor. We spent an entire day, from dawn to nightfall, photographing this home.
Give Your Clients Lots of Image Choices. We gave the team a vast selection of images (130 images!) to choose from for their awards submission.
Get Ready for Exposure. If a home does win any awards, your images will be featured in magazines, and newspapers, and end up on the covers of industry magazines.
---
The Story of the Award-Winning Home by Maui Architect Marc Taron
The owners, Neil and Suzette Felder wanted their new home to be unique and creative, and to preserve the ocean view from off their property. They selected Marc, who is known for designing high-end homes with indoor-outdoor features that capture incredible views.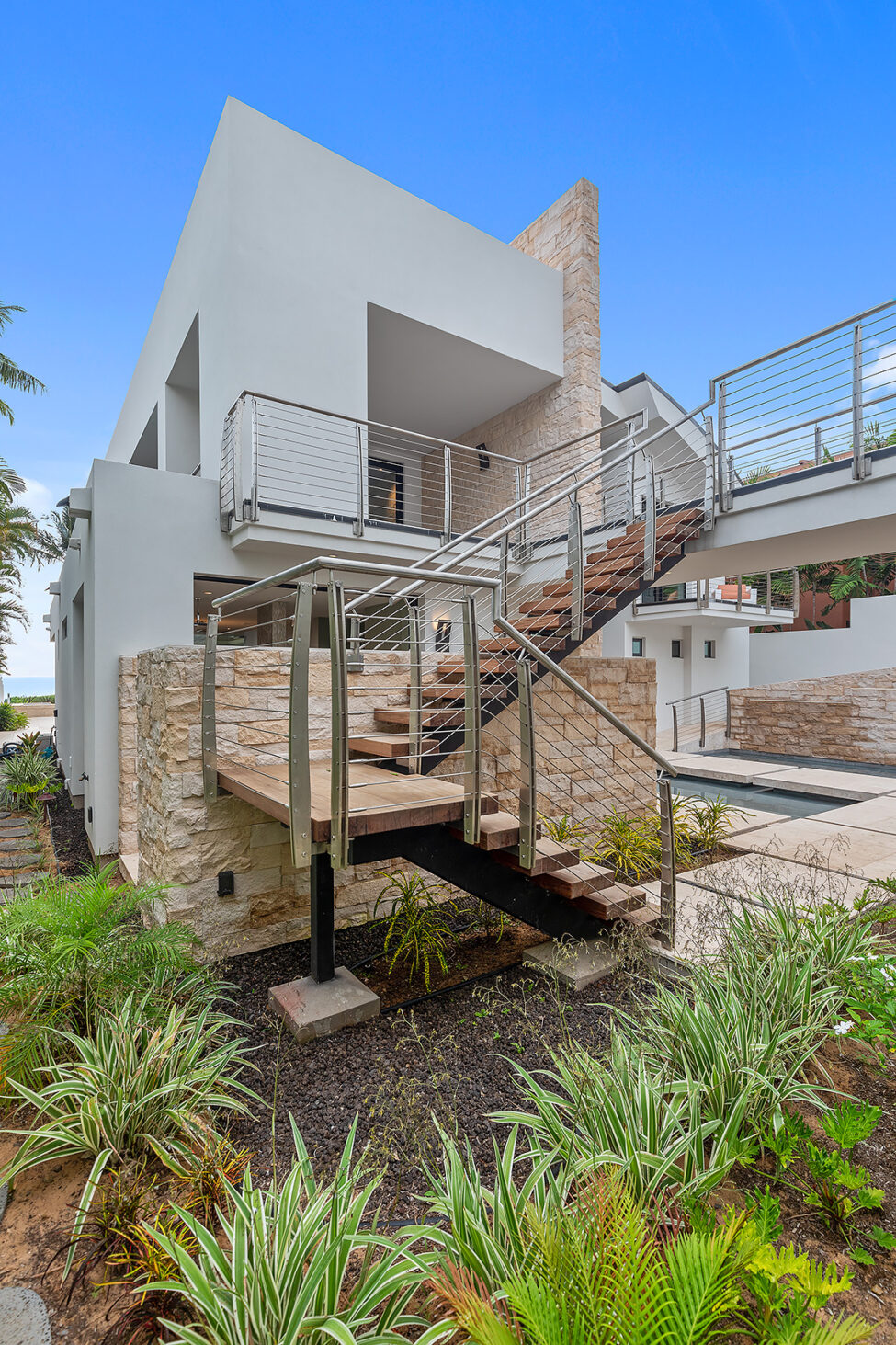 Neil and I both wanted something very different, and it is. That was the vision.

Suzette, Homewoner
They ended up with a daringly different home which also harmonizes with its coastal surroundings.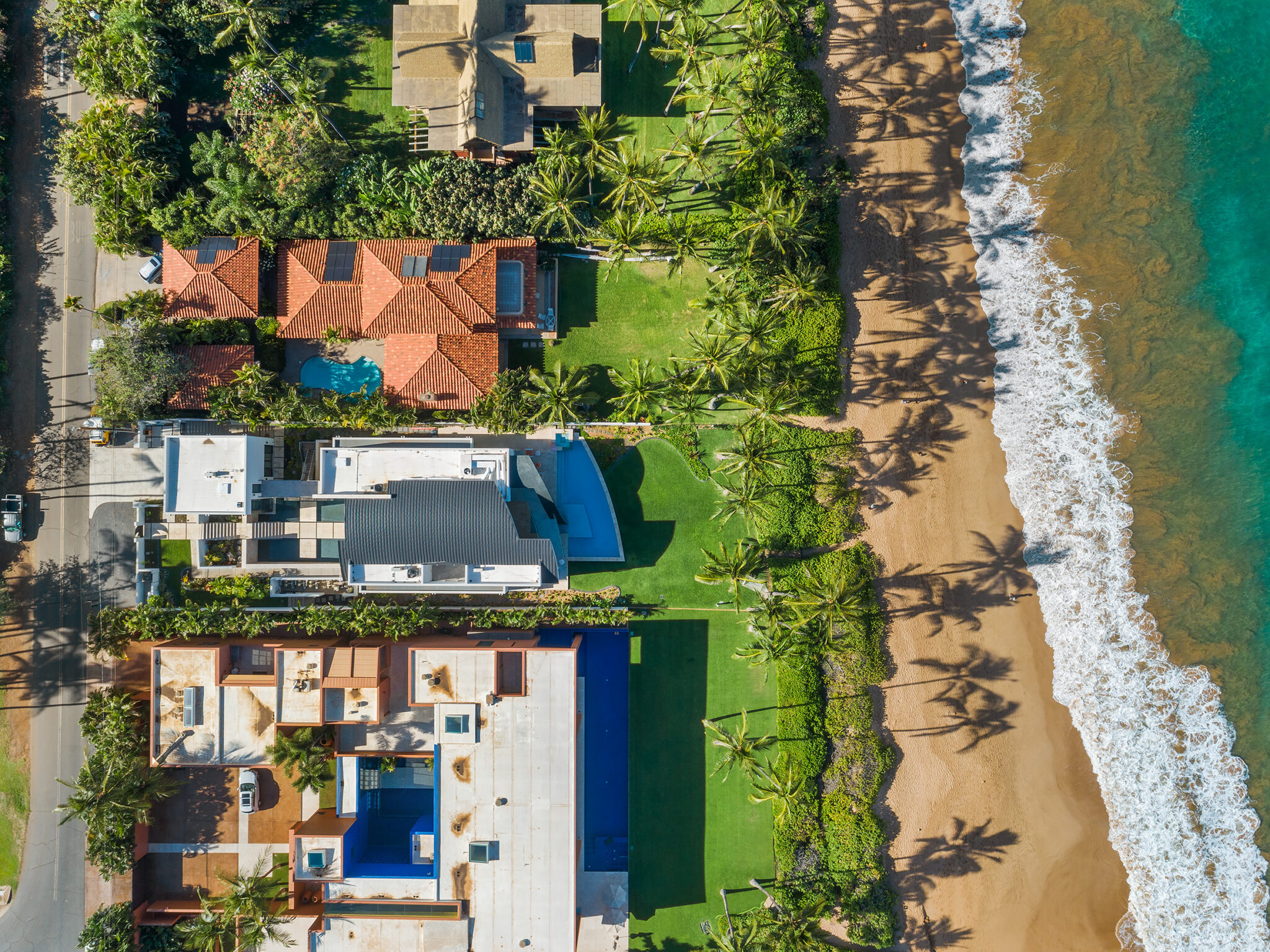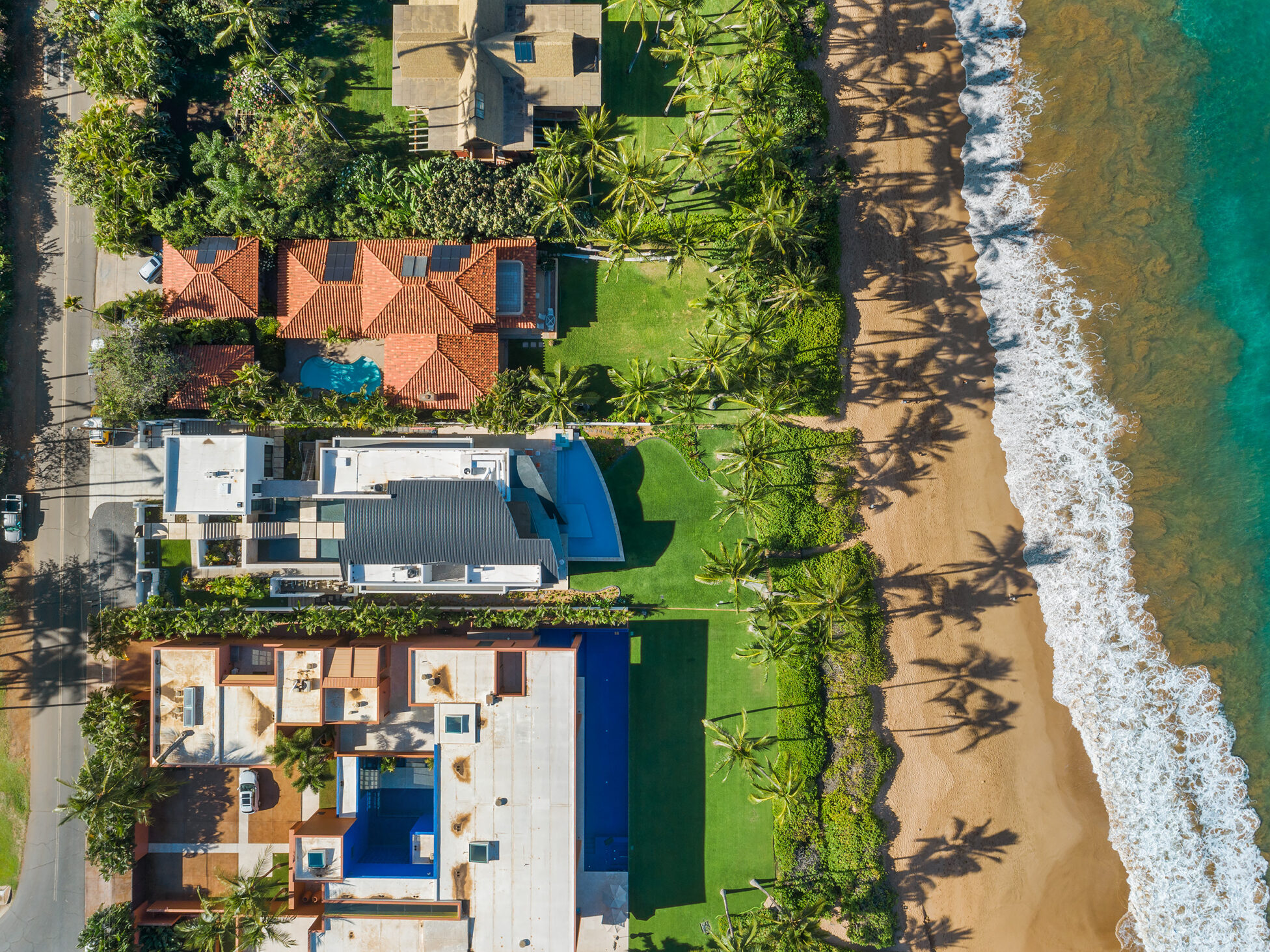 Because the property is not subject to the confines of an association's design guidelines, Taron was able to extend his creativity beyond the limits of some of his other projects. Taron's first drawings were innovative, but not quite over-the-top enough for the Felder's.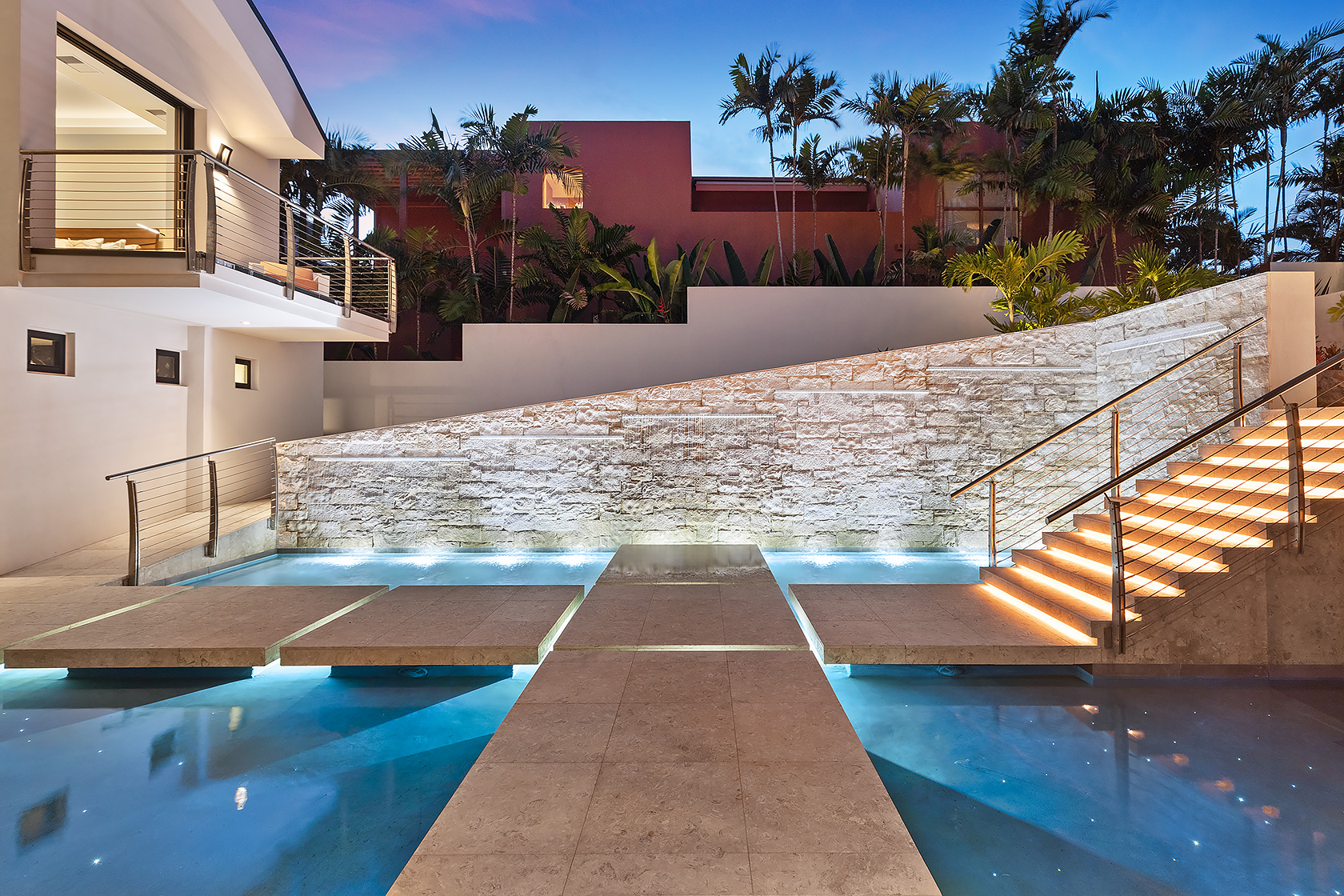 I was like, 'All right, gloves are off, baby,' and that's when I started really coming up with something out of the norm.

Marc Taron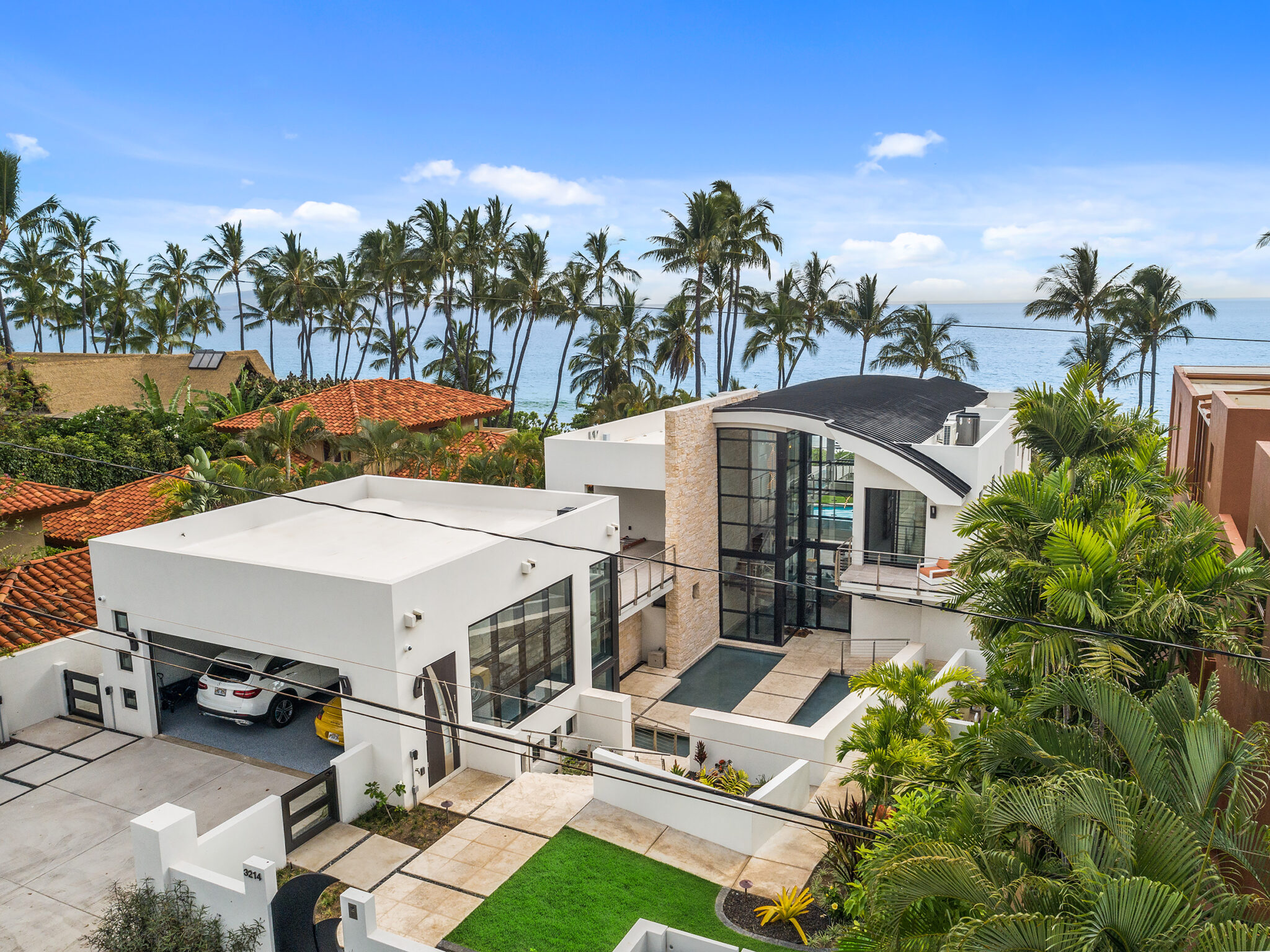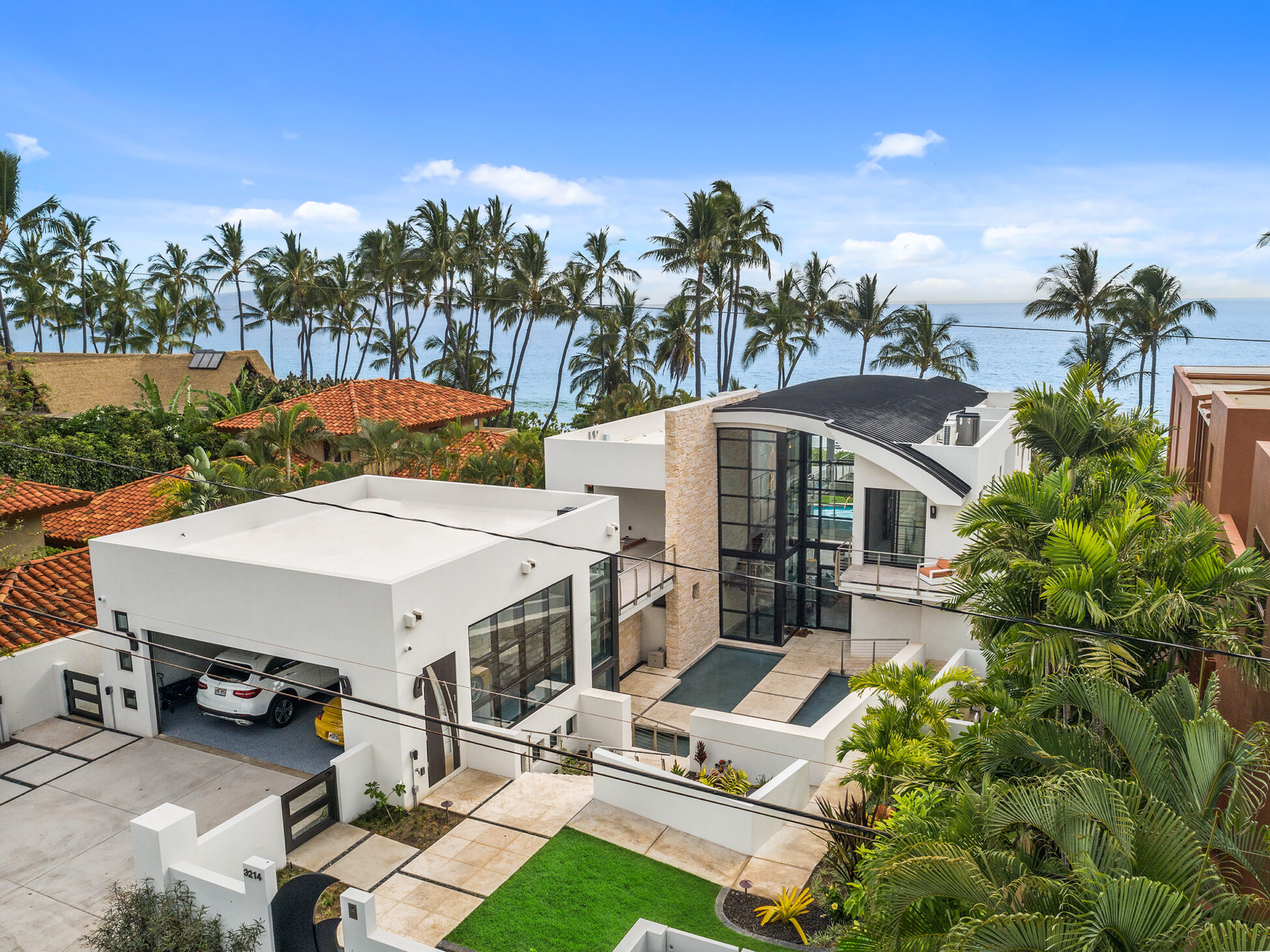 At the top of the Felders' wish list for their home was the ability to see the ocean through the house from the street.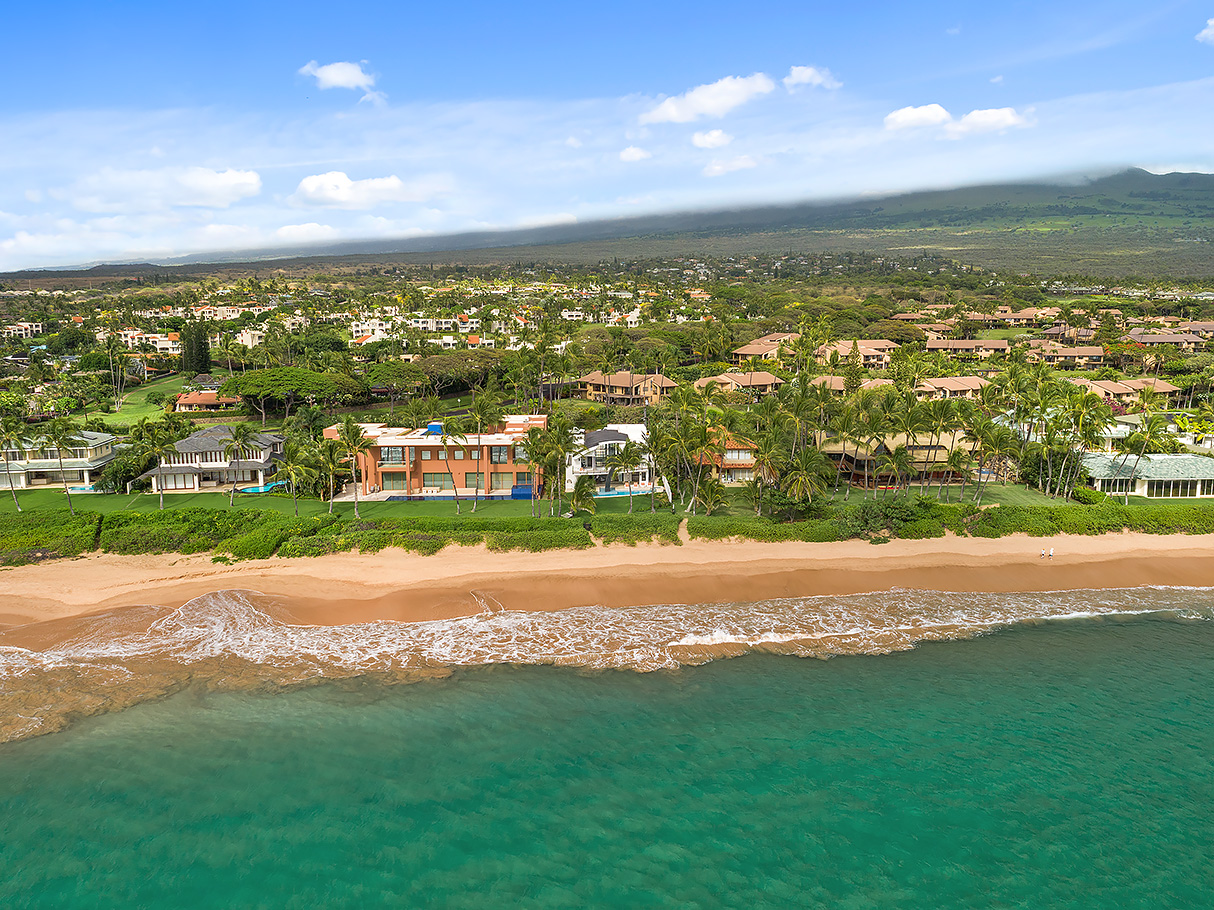 "That's really something," Taron says, noting that many beachfront houses block the view due to their size and privacy barriers.
It's clearly not Hawaiiana-style, but with its curves and simple forms, the house seems to blend into the lot.
Marc Taron, Architect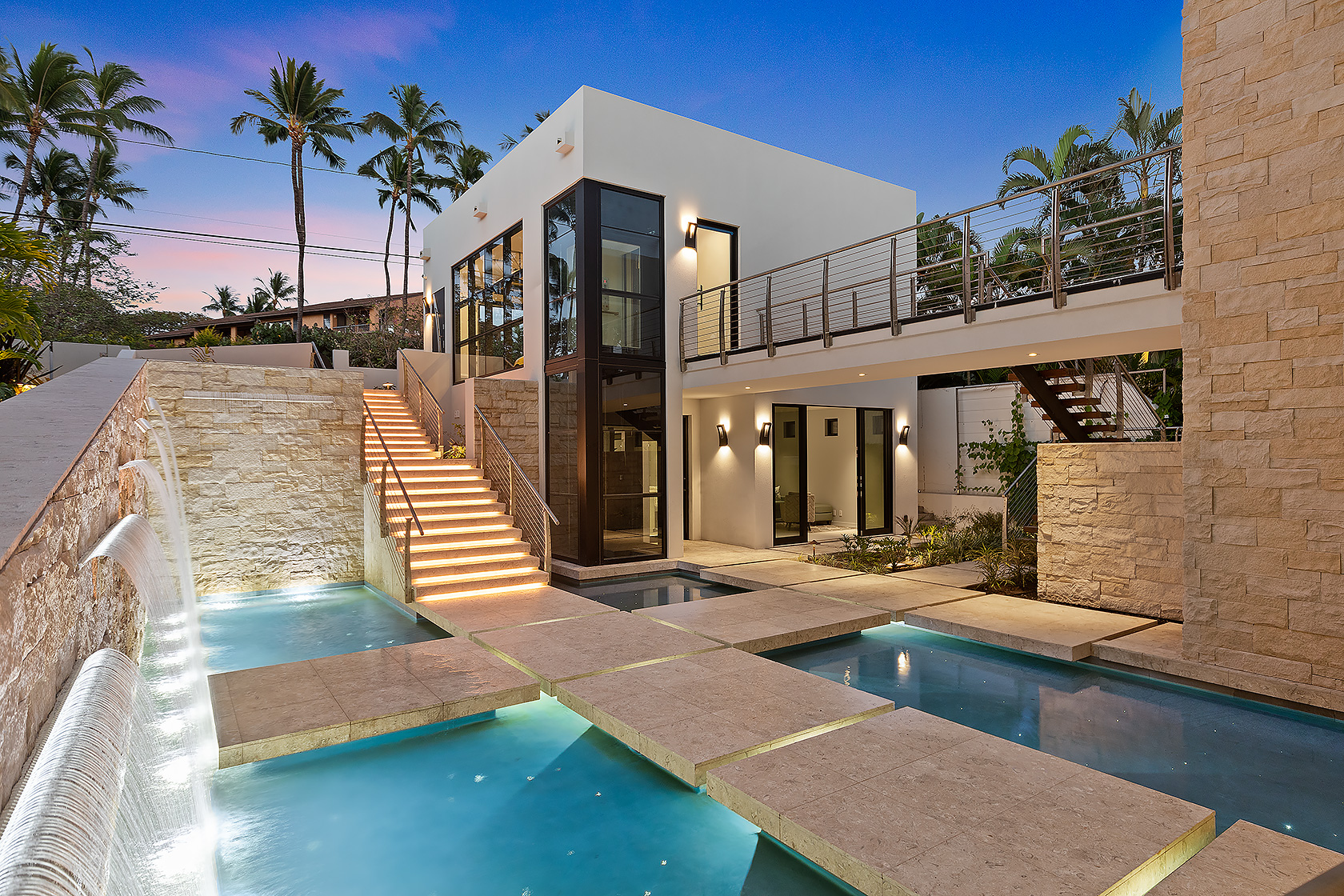 Entering the home is an experience in itself. From the garage, the Felders can walk along an elevated walkway into the second floor of the home or descend an open staircase to the lower level; or, they can ride a glass elevator.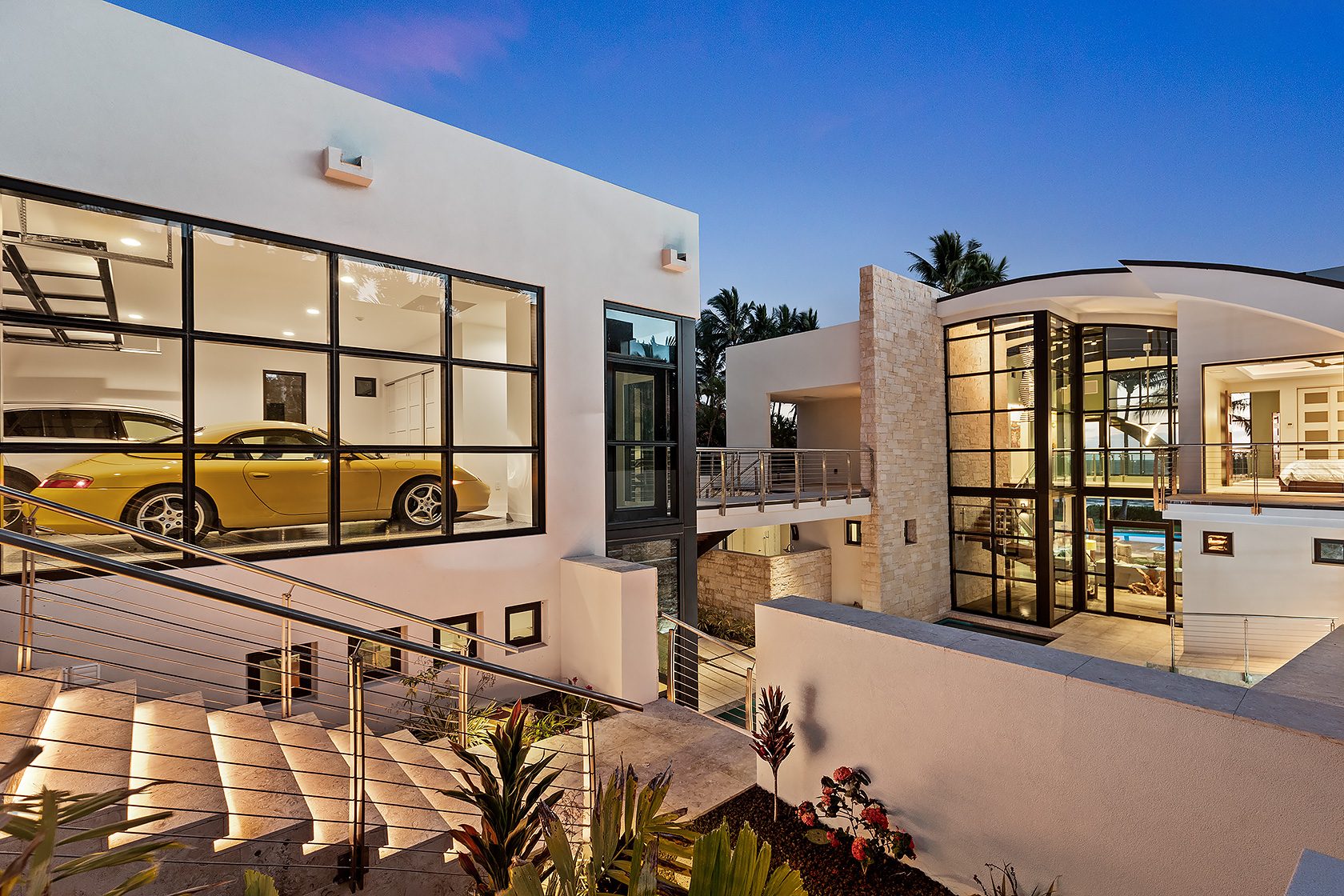 Taron designed the house to be modern, sculptural, and open. The garage is at street level, and with its two walls of glass windows, the Felders' Porsche appears to be on display. Walls of windows supplied by Maui Windows & Doors allow the interior of the garage and the home itself to appear on display.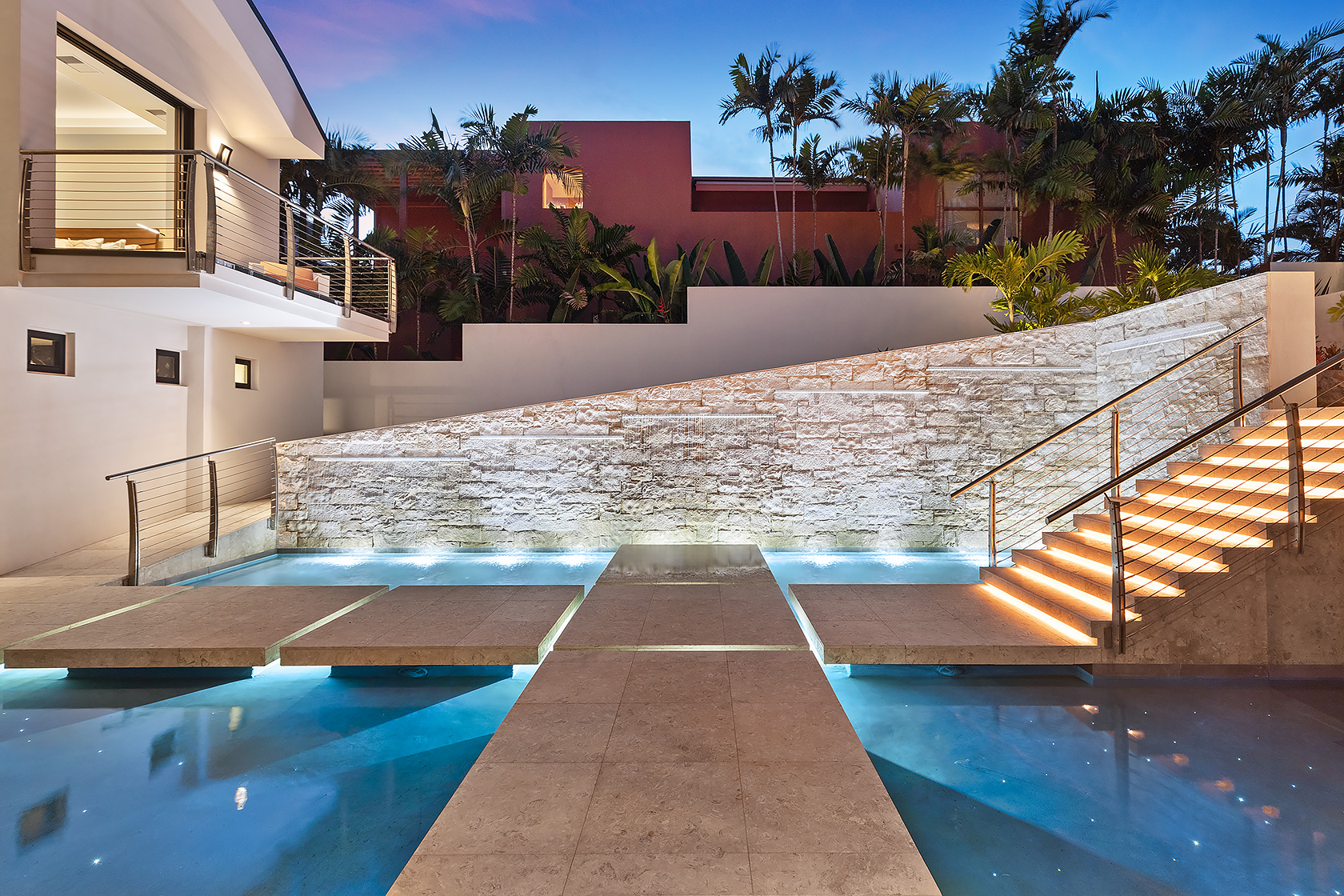 From the street, an open stairway with LED lights beneath each tread leads to a tiled walkway over a reflecting pool. This is illuminated at night by a flickering starfield below the water's surface, as though a reflection of the night sky.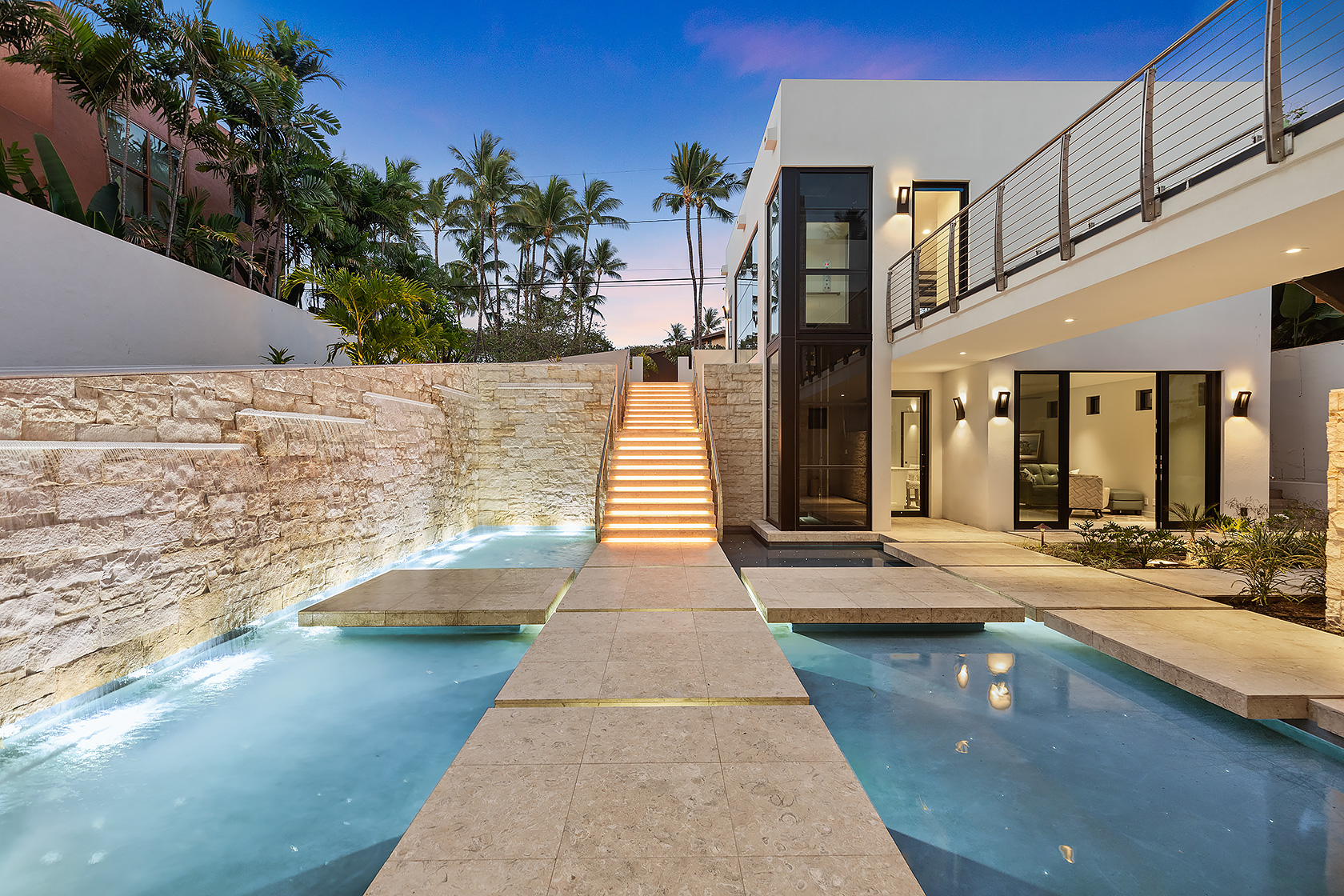 Along the retaining walls, waterfalls pour into the reflecting pool, adding to the ambiance.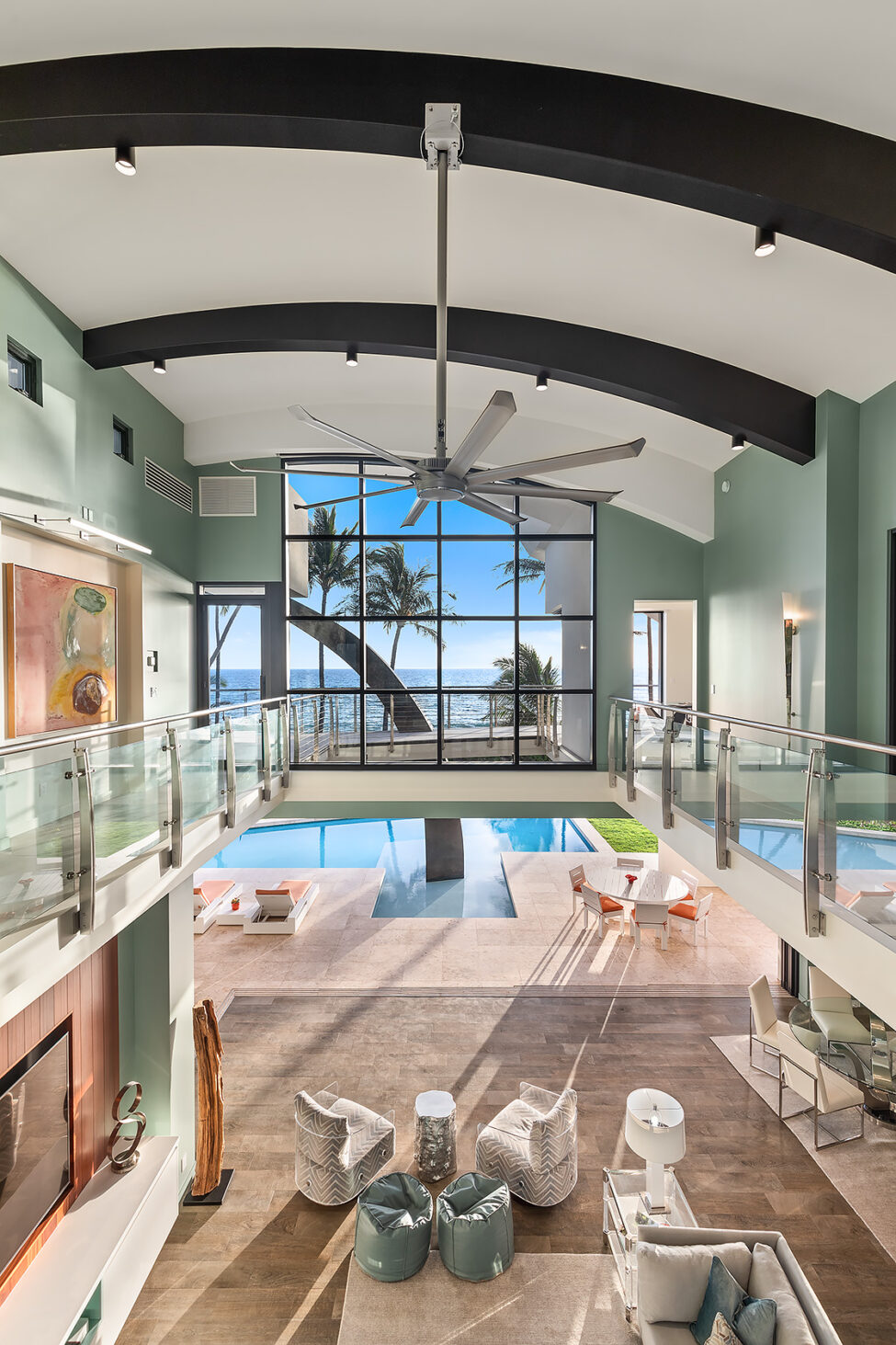 Inside, the home is completely open. The walkway leads into the great room, an open concept comprised of the kitchen, dining, and living areas that extend to the second story of the home.
I look at the house itself as a piece of art, and that's why it was important for the ocean to be a part of that artwork.

Neil, Owner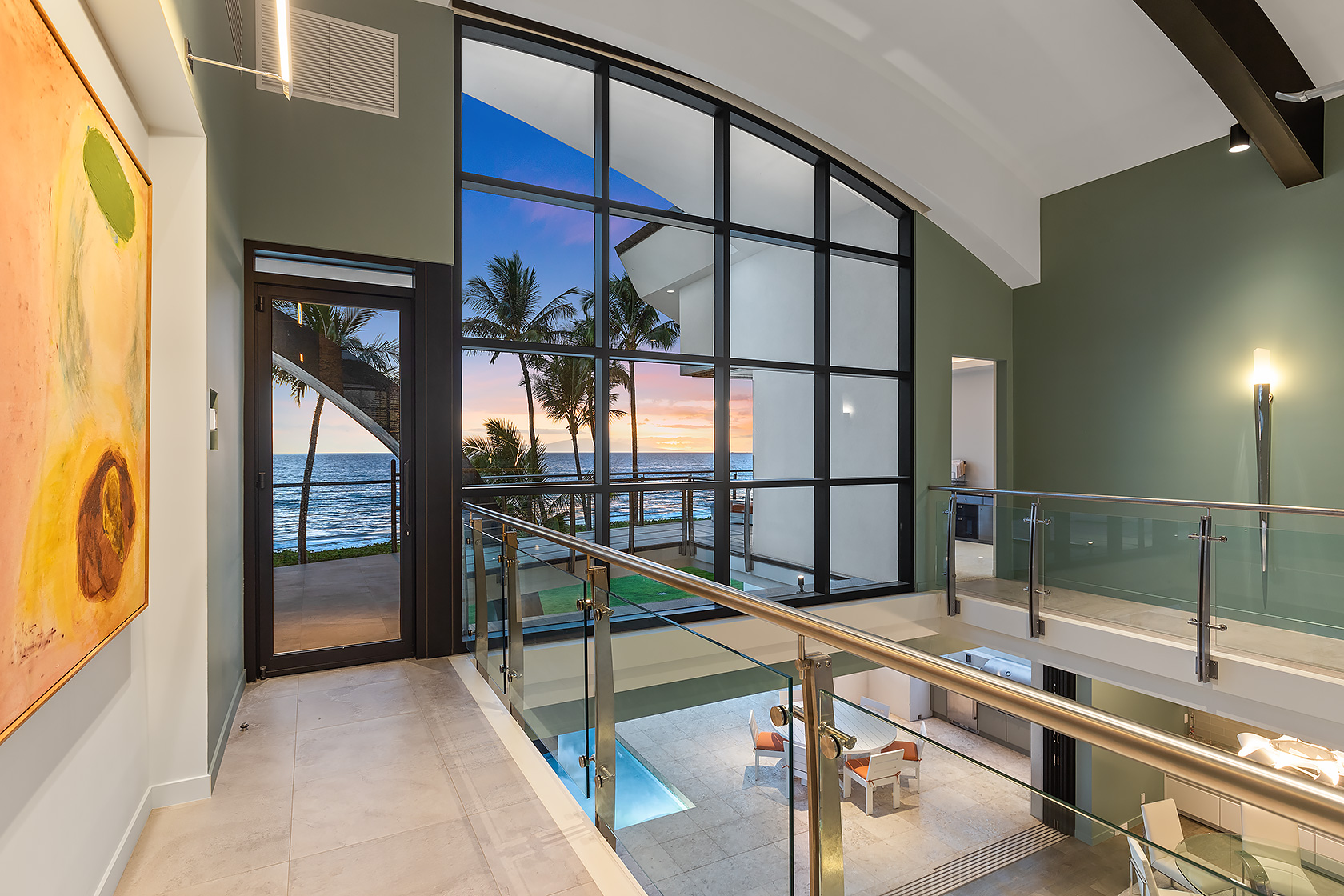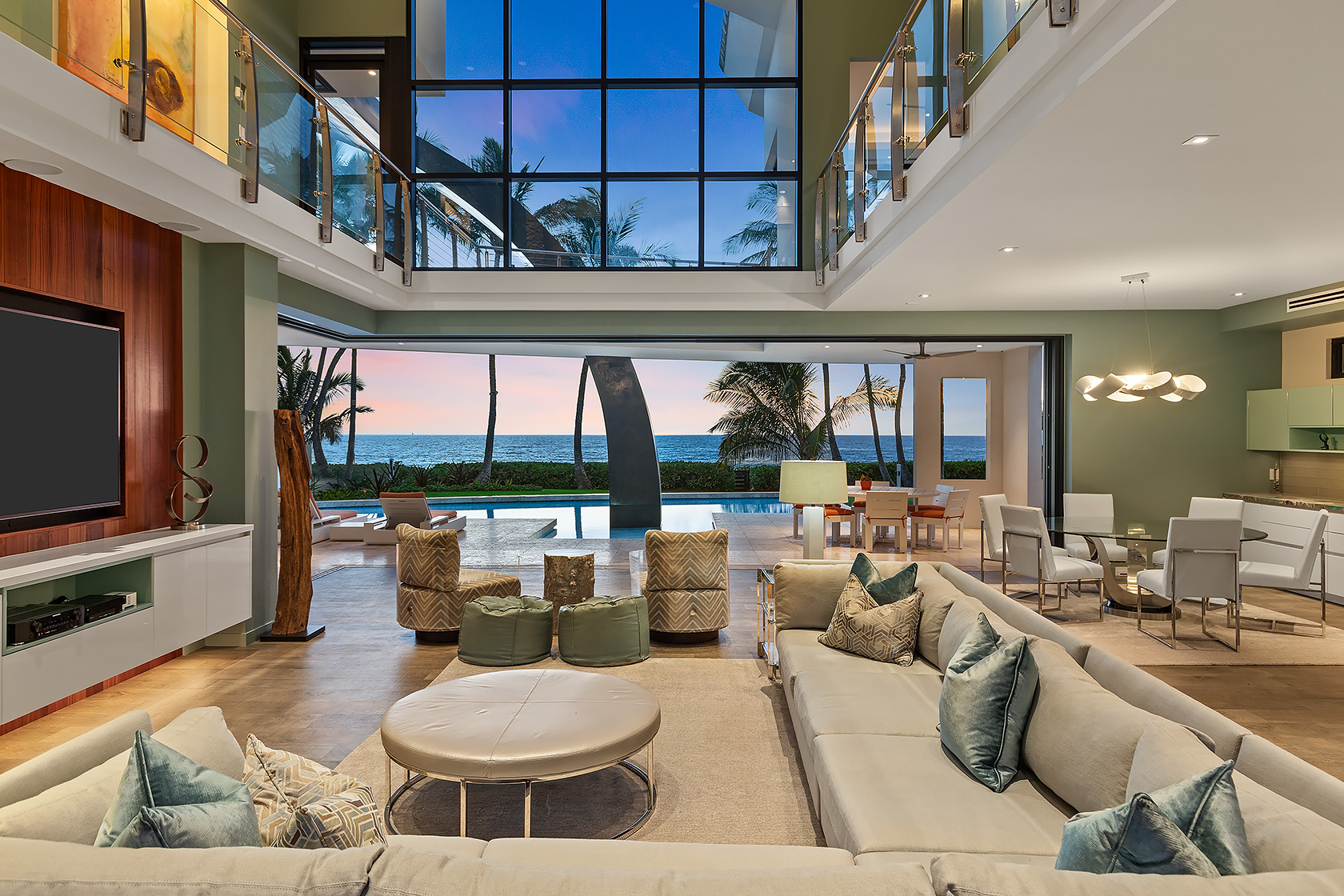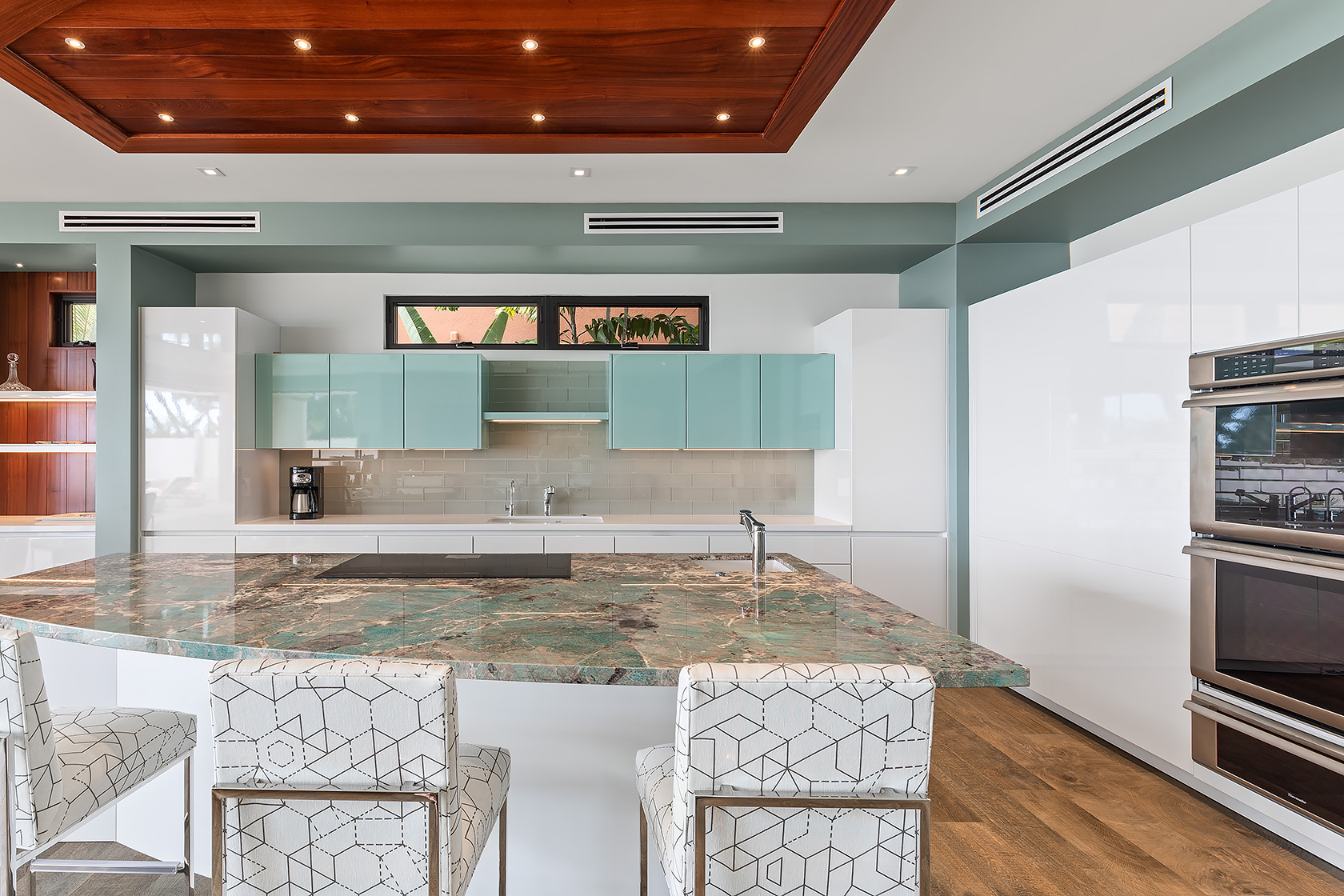 Kitchen and bath designer Cindy Tervola of Tervola Designs used a color palette drawn from the kitchen's Amazonite quartzite countertop, a stone that Suzette really liked.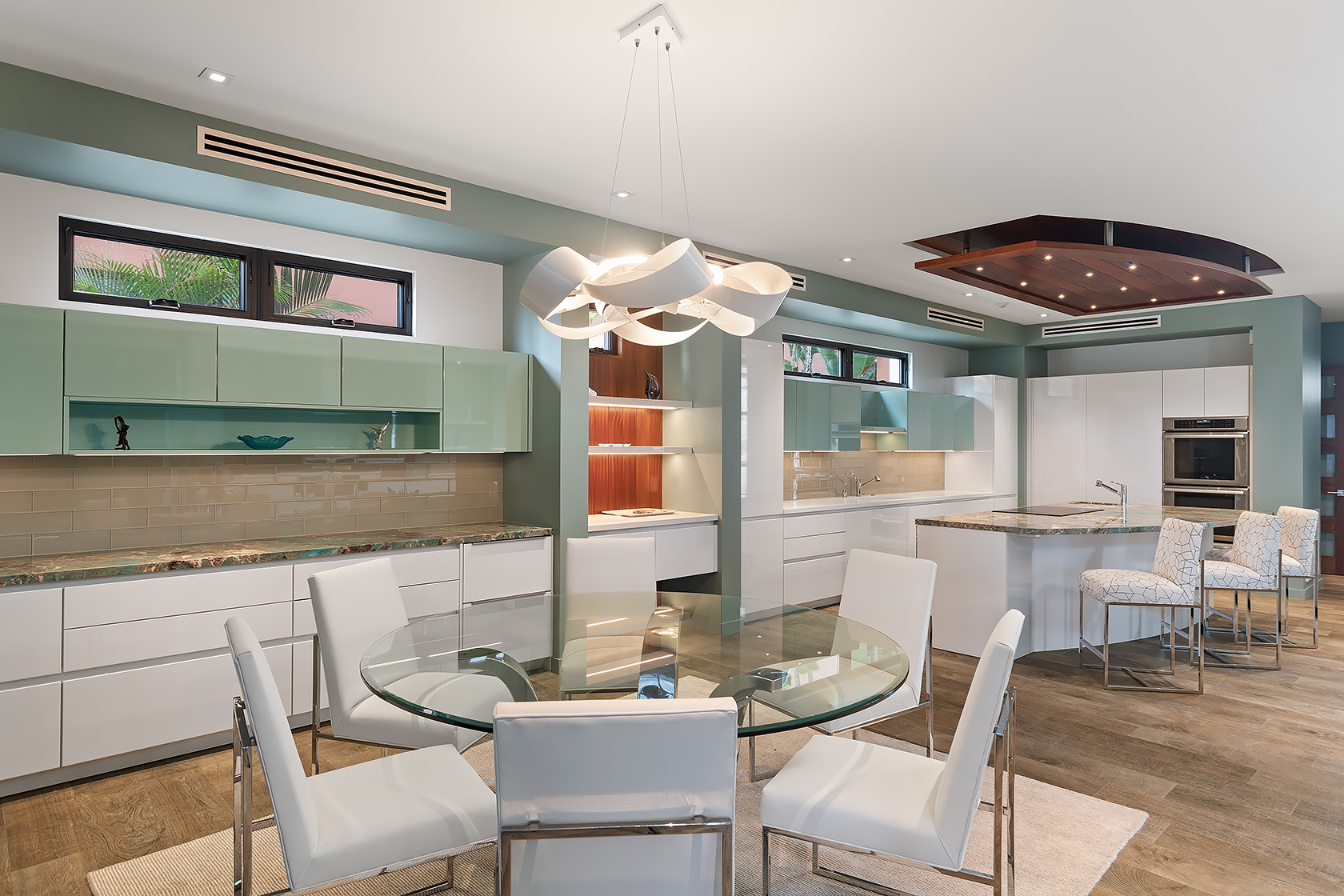 The modern kitchen has two-tone, flat-panel European cabinetry, mixing light green upper cabinets that were color matched to the countertop with high-gloss white lacquer, including matching panels for the Thermador appliances.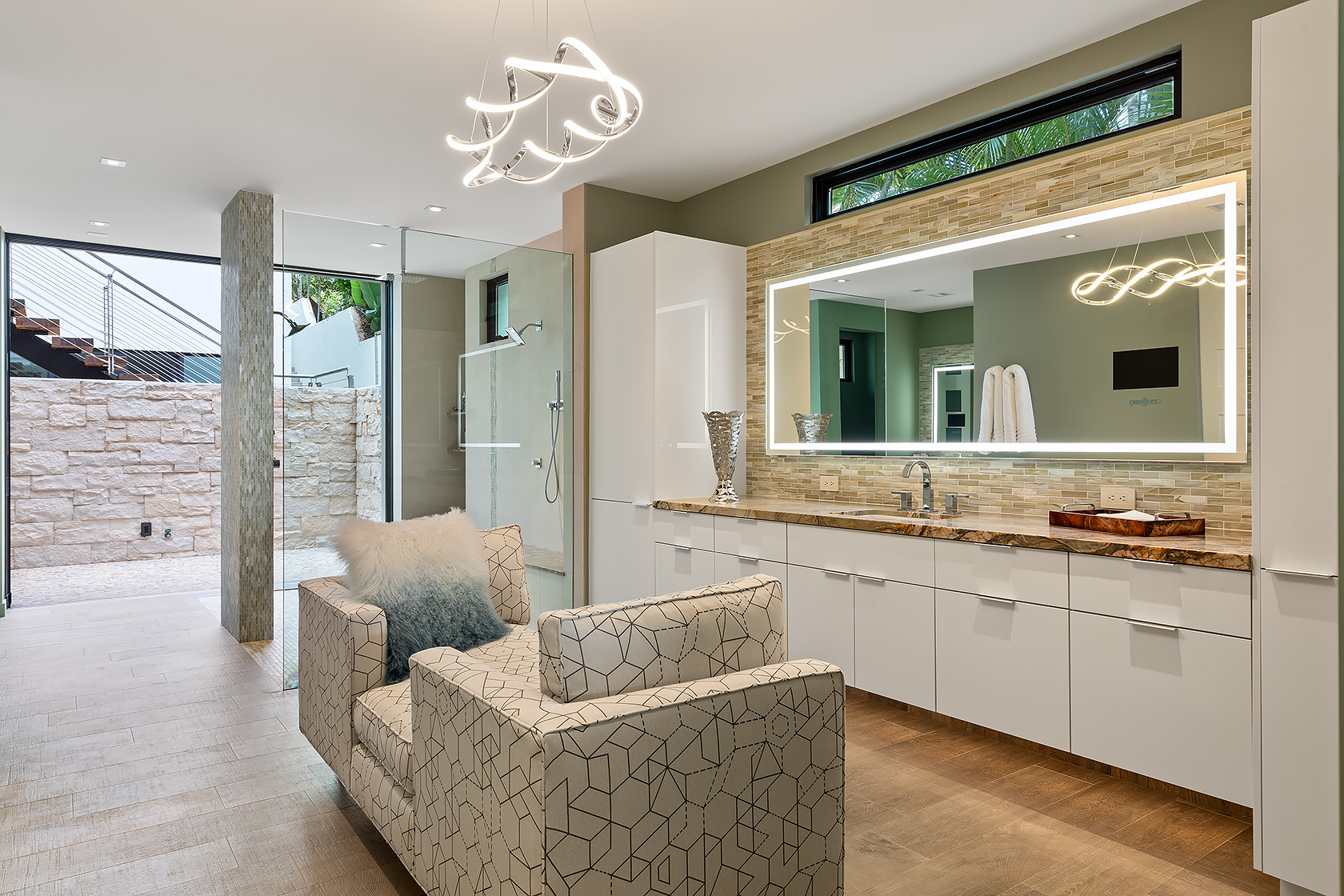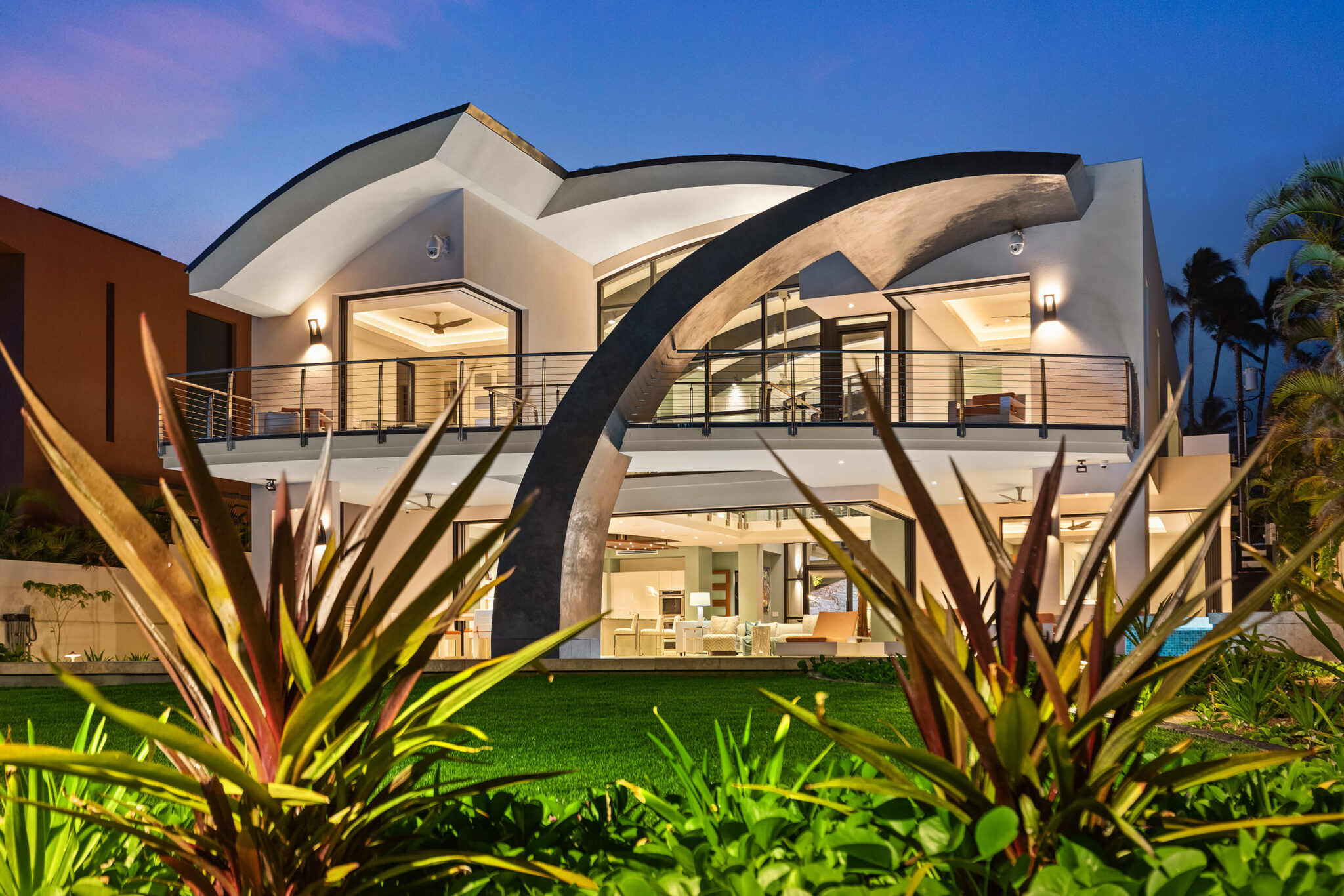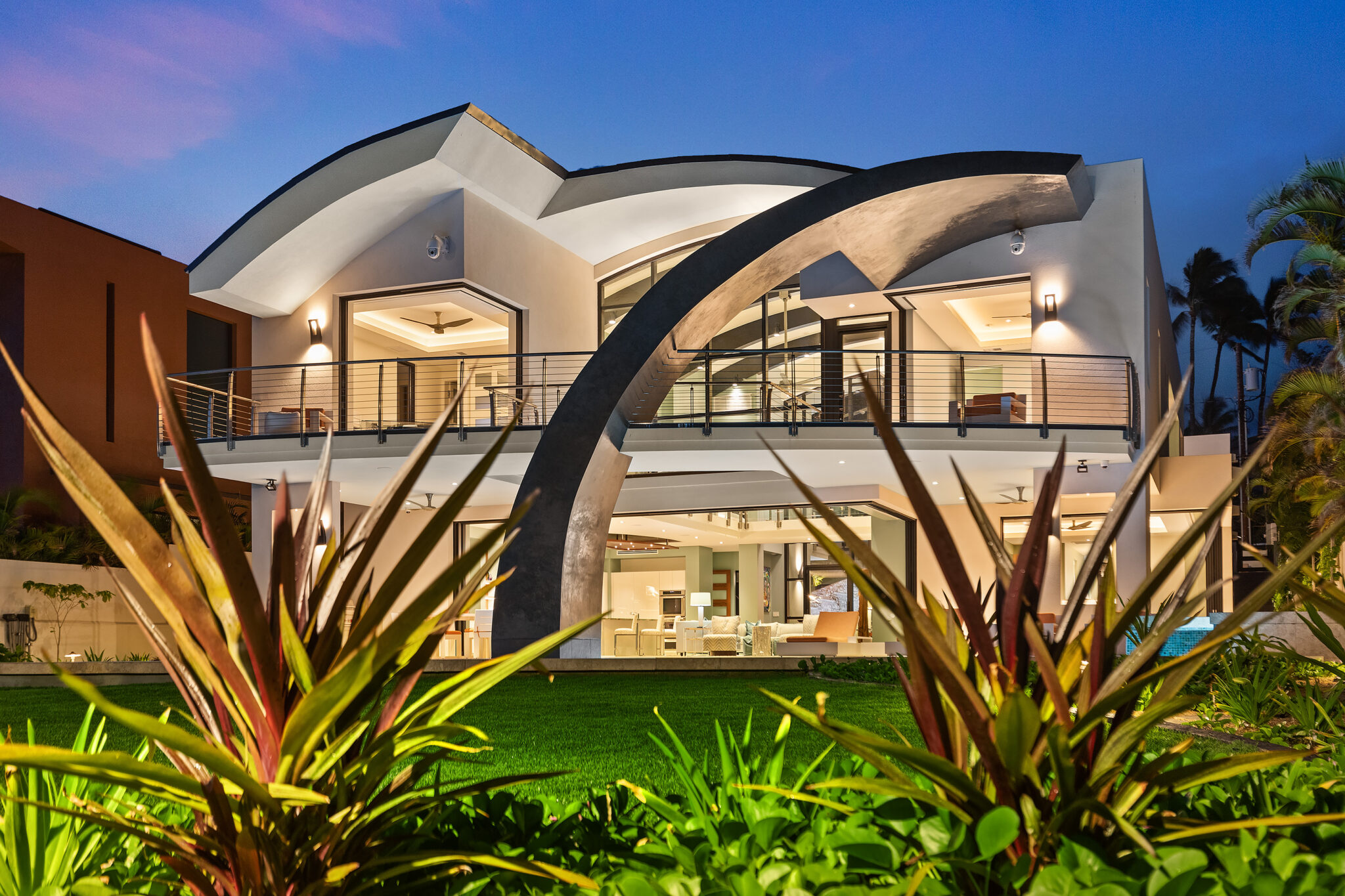 Through Fleetwood doors from Pacific Source that can be pulled completely open, the great room extends outside to the pool deck and lawn before reaching the beach and ocean beyond. The pool deck is partially shaded by a cantilevered lanai from the second floor, which also inspired the design of the home's makai-facing exterior.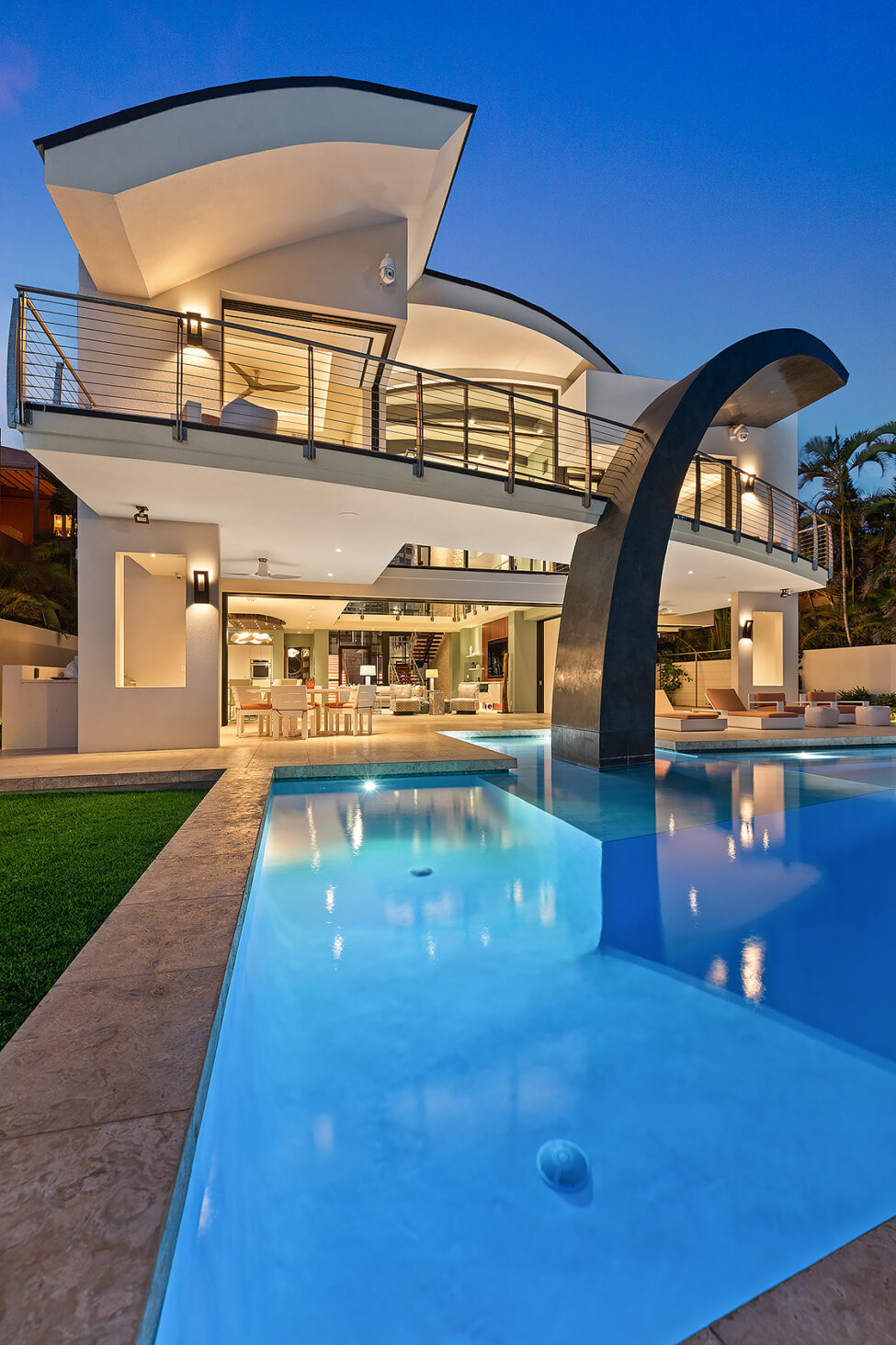 A support system was necessary for the cantilever lanai, and rather than use a column, Taron designed a sculptural, artistic arch that made a bold statement. The arch extends from the pool up through the lanai to provide support, and then continues past a guest bedroom — which creates shade for the room — and crests above the roofline. Taron mimicked the shape of the arch throughout the home's roof, with additional curves to represent a set of rolling waves.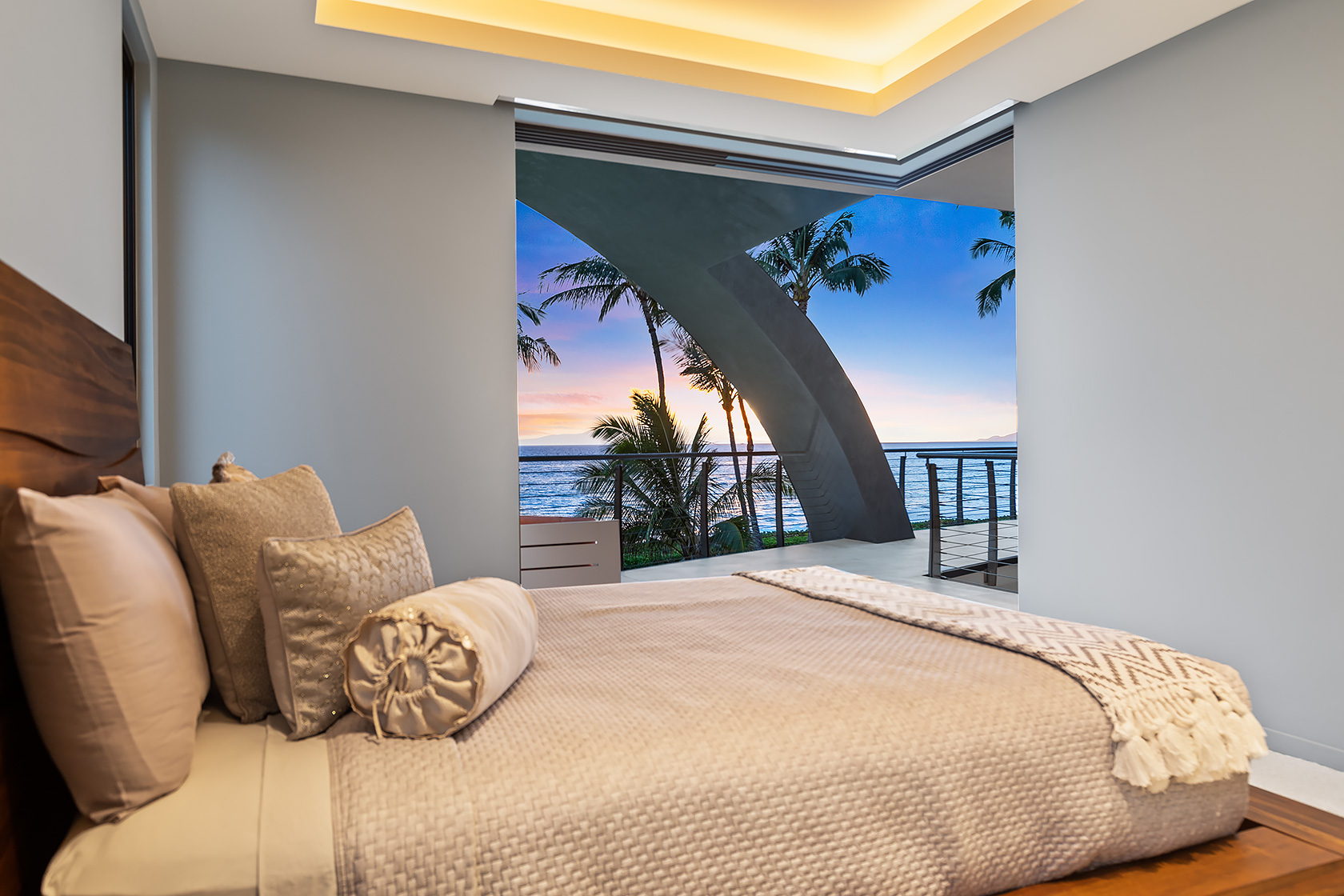 "It was ingenious," Neil says of the structural arch, noting that it allows the rest of the area to remain completely open.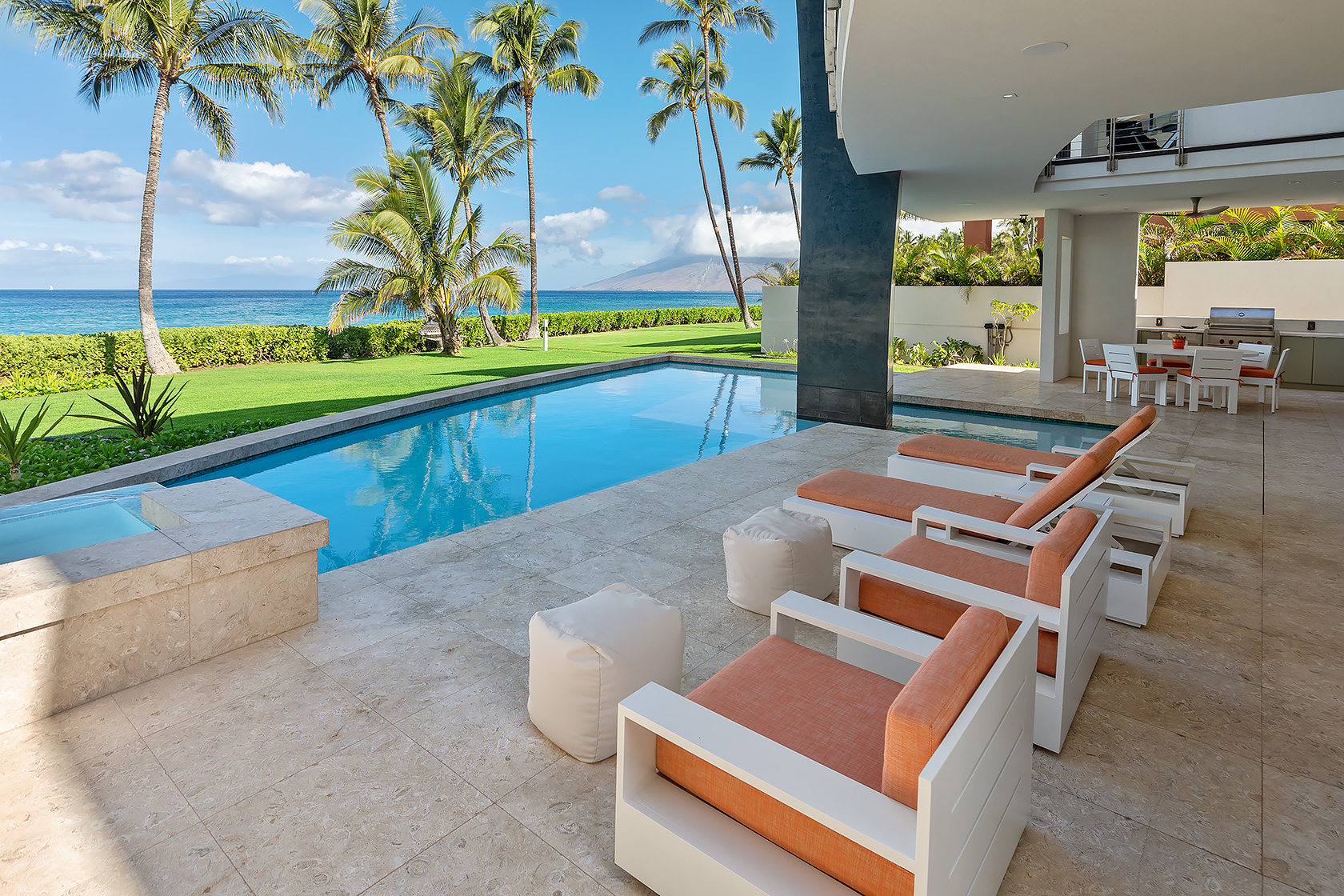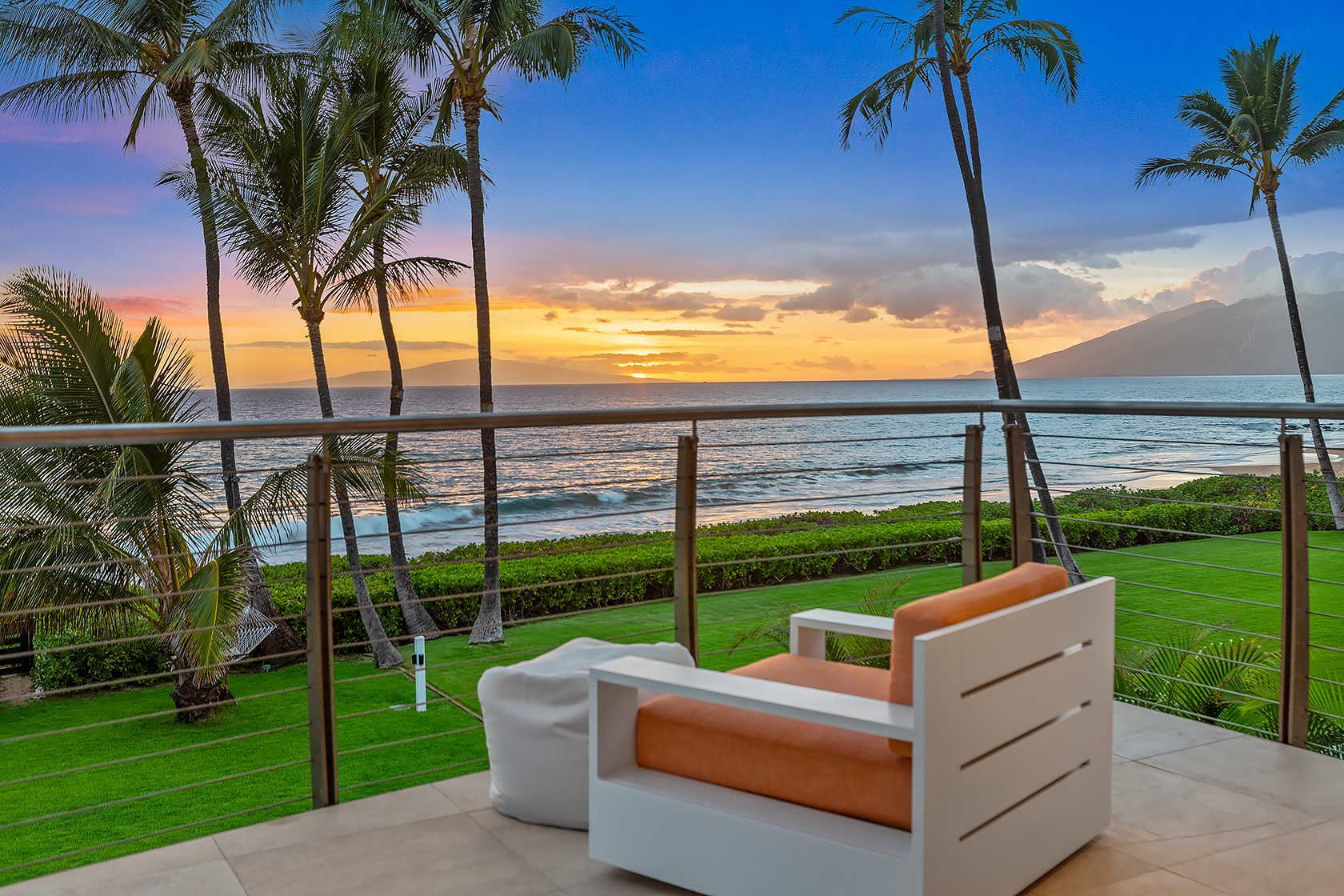 The Felders spend most of their time on this side of the house, closest to the ocean but set back enough to enjoy the view from any part of their home. They never tire of it.
I'm always amazed at how beautiful it is. It's so unique. It's just beautiful.

Suzette, Homeowner
---
Architectural Award Photography – Awards and Publications
The hard work of the entire team was recognized. The home won accolades and generated many headlines and magazine stories.
---
Resource Guide
Arquitectura LLC
(Marc Taron, architect)
1325 Mo'ohele St., Wailuku
808-870-1053
ARQ@hawaii.rr.com
ARQHawaii.net
Blackrock Stone & Tile LLC
(countertops)
1384 Front St., Lahaina
808-669-0921
BlackrockStone.com
Buddy L & Sons Construction, Inc.
(general contractor)
PO Box 543, Kīhei
808-874-9060
BuddyLSons.net
Cindy Tervola, Tervola Designs
(interior designer)
142 Kupuohi St., Ste. F6, Lahaina
808-385-9971
TervolaDesigns@gmail.com
TervolaDesigns.com
Coastline Stone and Tile, Inc.
(tile for interior and lānai)
1765 S. Kīhei Rd., Kīhei
808-879-0635
Rob@CoastlineStoneAndTileInc.com
CoastlineStoneAndTileInc.com
DFG Masonry, Inc.
(concrete)
12 Mano Dr., Kula
808-876-0951
Grace Electrical Services
1097 Kaha'apo Loop, Kīhei
808-298-8859
Hamai Appliance
(appliances)
332 E. Wākea Ave., Kahului
808-877-6305
HamaiAppliance.com
Hilltop Contractors, LLC
(stucco, rock wall, tile for entry walkway)
2860 Kauhale St., Kīhei
808-633-8109
HilltopContractorsLLC.com
Hughes Landscape Architecture, LLC
(landscaping, waterfall design)
735 Bishop St., Ste. 308, Honolulu
808-536-7619
HawaiiLandscape.com
Martin & Chock
(structural engineering)
1132 Bishop St., Ste. 1550, Honolulu
808-521-4513
MartinChock.com
Maui Windows & Doors
54 Maui Lani Pkwy, Ste. #2050, Wailuku
808-877-3667
MauiWindowsAndDoors.com
Mhel Ramos-Vieth, Studio M Hawaii/Designline Studio
(interior designer)
808-264-4747
StudioMHawaii.com
Otomo Engineering
(civil engineer)
305 S. High St., # 102, Wailuku
808-242-0032
Pure Image Pools
2377 Pu'u Mala Pl., Kīhei
808-280-4500
PureImagePools@hawaiiantel.net
PureImagePools.com
Ram Pacific Roofing
904 Mahealani St., Kīhei
808-891-2482
Read Lighting
335 E. Wakea Ave., Kahului
808-871-8995
ReadLightingHawaii.com
Tradewinds Air Conditioning Inc.
430 Kaulana St., Kahului
808-281-2109
Yadao Construction
(framing)
808-879-4274
Architectural Award Photography
---
How to Photograph a Home for an Architect for Award Submissions.

Importance of Professional Photography:


Professional photography is essential when submitting a project to awards and publications. It's about more than just capturing images; it's about telling a story, highlighting design details, and creating an emotional connection with viewers. High-quality images help judges and the public understand the architect's vision and craftsmanship.


Planning the Photoshoot:

A successful photo shoot for an architectural project requires meticulous planning. PanaViz collaborated closely with Marc Taron to understand the key design elements, lighting, and angles that best showcase the home's unique features. This would ensure that the final images effectively communicate the architect's design intent.

Lighting and Timing:

Lighting plays a critical role in architectural photography. PanaViz would have carefully chosen the right time of day to capture the home in the most flattering light, taking into account the orientation of the property and the movement of the sun. This attention to detail ensures that the photos highlight the home's aesthetic appeal.

Composition and Perspective:

Skilled photographers like those at PanaViz know how to frame shots to create a sense of balance and harmony. They use various angles and perspectives to emphasize the home's design elements, such as unique angles, materials, and textures.

Editing and Post-Processing:

Post-processing is a crucial step in modern architectural photography. PanaViz would have used editing techniques to enhance the images, correct any imperfections, and create a cohesive visual narrative. This ensures that the final photos are magazine-worthy and ready for submission.

Submission to Awards:

Winning awards in the building industry often involves submitting a portfolio of images that showcase the project. PanaViz would have selected the best shots that highlight different aspects of the home's design, such as interiors, exteriors, and details. These images would have been presented in a way that effectively communicates the architect's vision.

Media Coverage and Storytelling:

In the case of Marc Taron's home on Maui, the professional photographs captured by PanaViz not only helped win awards but also secured magazine covers and stories. These images would have been accompanied by compelling narratives that explain the design concept, materials used, and the overall architectural significance of the project.

Promoting the Architect's Brand:

Exceptional photography not only benefits a single project but also contributes to the architect's overall brand and reputation. Winning awards and gaining media coverage can lead to more commissions and opportunities.
---
David Tonnes is a Hawaii architectural photographer based in Hawaii with a focus on capturing luxury homes.
See our Maui Real Estate Photography here.
Oahu Vacation Rental Photographer
Kona Vacation Rental Photographer
Kauai Vacation Rental Photographer
Maui Vacation Rental Photographer
---